16 Feb

Taste of Kilkenny Festival 2022 18th-27th Feb

Kilkenny is a foodie city, with a reputation for good food served in classy surroundings. This year local restaurants are giving you a chance to find out just why so many people flock to Kilkenny to get their foodie fix!

Kilkenny is encouraging visitors to experience the diversity of its culinary culture with Taste Kilkenny Restaurant Week. Running from 18th –27th February, diners can sample some of Kilkenny's best loved dishes at hotels, restaurants, cafes and pubs and avail of great value discounts and special offers for an entire week! Visit Kilkenny's eclectic range of restaurants and explore our award winning venues – choose from our selection of fine dining and Michelin Stars to the best of pub food – at prices which won't break the piggy bank.

Find out how Kilkenny became Ireland's Foodie Destination for 2018, and find out why people who love good food travel in numbers to our Medieval city. Participating restaurants will have their Taste Kilkenny Restaurant Week offer clearly displayed, some with signature dishes, some with tempting tasting plates – in other words, something for everyone's palate and purse.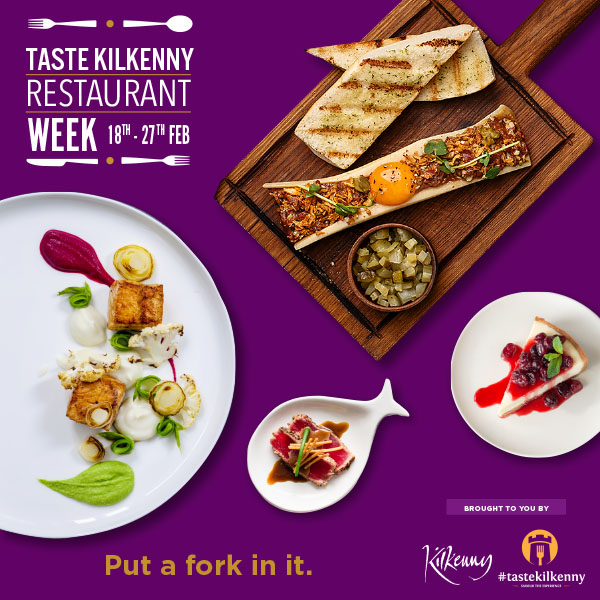 Notes
Login and add a few lines of text here, the video I took from the main events website, we will not link out or back here. We use this as the final step in the process, all traffic is sent here. Some sort of CTA/time/'so what' needs to be added or this is just news.
There is also not a need to make every post a marketing 'machine', new staff, events, etc can all just be there as a diary. But every post should be looked at first to see can this help bring new business, can this help us rank and convert well.
The image to the right layout here is an advanced blog post, most of the time a feature image and text is all that should be added. Here this is one example of cross promotion. Most blog posts will be direct from you.